Traffic exchanges are websites where you can promote your website by viewing other websites. The views are exchanged in the form of credits and you receive so many credits for each site that you view. They all have different ratios for this. Most of the time you can also purchase credits if you don't have the time to look at other websites. Splash pages are normally used as a quick form of advertisement. Your page may only be seen for a split second as some people surf multiple TE's at the same time and are moving quickly from tab to tab in web browser. There is normally a timer running in which you click some kind of matching picture or graphic after seeing each ad page for a certain amount of time. There are differing views about how effective this form of advertising might be. The good news is that it can be done completely free. So if you have some time to view some splash pages, then you can show yours as well and it won't cost you a thing. Below you will find some of the traffic exchanges that I enjoy.
(ad)
Thousands of people have already discovered Sotuk Traffic and it's great qualities. It offers free website traffic of high quality, from all over the world! Sotuk Traffic offers a wide variety of unique games and great contests to make surfing fun! They also have some really exclusive features, such as intelligent splashpages and daily rewards both for for promoting and surfing.Surfing is never boring in Sotuk Traffic! Great traffic – great results.
(ad)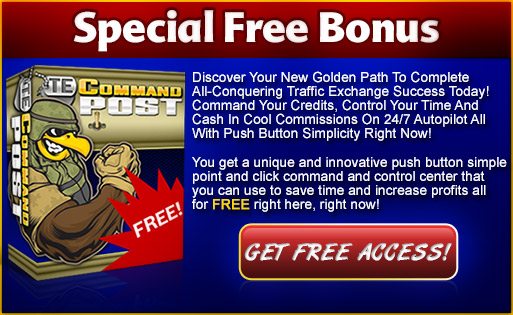 (ad)
(ad)
When it comes to traffic generation, you have two options:
a) You can either buy traffic OR
b) Create traffic
In a lot of cases, it's hard to find a traffic method that
actually WORKS.
All you want is to get more visitors to your site.
Traffic exchange sites is a great way to generate traffic to
your site because you don't need to pay for it. Although, you
can purchase credits to get faster results, but that's
completely optional.
What I'm about to share with you is a traffic exchange site that
not only has a built-in traffic exchange system so you can
generate traffic to your site, but also training on how to
actually make the most out of traffic exchange sites.
It's called Traffic Exchange Wiz.
If you're ready to get started, just click on the above banner.
It's free, and you can start getting traffic to your site right
away.
Ultimately, you want to generate leads and sales, but that's not
possible unless you have the last of the ingredient… that
is… Traffic!
Here are just a few perks you get when you get access to Traffic
Exchange Wiz today:
* Traffic exchange system. Get your website exposed in front of
Traffic Exchange Wiz members.
* Banner and text ads system. Feature your banner and text link
ads on the bottom of all members pages. This = more traffic for
you!
* Built-in downline builder. Anyone joining the sites under you,
will be in your downline.
* Free Traffic Exchange training to make the most out of Traffic
Exchange Wiz and other traffic exchange sites.
* Access to the TE "Hangout" Community/forum section so you can
talk, brainstorm and exchange ideas with other members.
+ A whole lot more!
Get instant access to all of this right now:
Once you've signed up, make sure to follow the steps.
Isn't it about time you started generating traffic to
your site? Having a website is one thing, but driving traffic to
it to build your leads or make some sales is another. That's all
possible only if you have traffic.
Get access to Traffic Exchange Wiz to start generating traffic:
(ad)